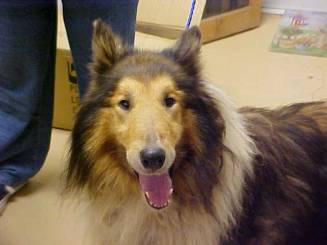 ---
MINNEAPOLIS, Minnesota, (August 6, 2002) – Seldom do we hear a dog story as heart wrenching as this one. Minnesota Wisconsin Collie Rescue, a volunteer run non-profit organization dedicated to saving homeless purebred Collies, is fostering a wonderful Collie with a story of amazing resilience. MWCR is located on the web at www.mwcr.org
Perseverance – Persy for short, was brought into the Menominee Animal Shelter in Menominee, Michigan as a stray on June 11, 2002. It was reported that he had been running near and on some property in rural northern Wisconsin near Marinette for possibly as long as 3 months prior to that date. By the time he was captured during a storm he was in an advanced state of deterioration.
Former shelter manager Julie Derusha commented, "Persy had no identification and was terribly thin, weighing only 40 pounds when a normal weight for a male Collie is about 70 pounds. His coat was horribly matted and there were many open sores, bites and wounds all over his back and body. Our local vet recommended having him completely shaved down to the skin to prevent maggots from hatching in the open wounds. Persy was covered with about 1,000 wood ticks and deer ticks; they were hanging off his lips, ears and in the corners of his eyes. It was awful! The professional groomers who shaved him were horrified at the nests of ticks in his coat. Despite all of this he was so sweet and the look in his eyes so trusting. He completely put his faith in us to take care of him."
A major problem for Persy that was immediately noted by shelter staff was his inability to eat hard food as well as the odd shape of his jaw. Derusha said, "It was so frustrating. We would put food down for him and he was starving, but he wouldn't eat. When we gave him soft canned food he literally inhaled it." A trip to the vet for some x-rays that were taken while Persy was under anesthesia revealed the problem with his jaw. "I could hardly believe it when the vet called and said that the reason this Collie couldn't eat was that someone had shot him in the face! I immediately burst into tears. I thought I was going to be sick. It is unimaginable that someone would do something that cruel. The vet feels that it is possible someone shot Persy and left him for dead."
Both Persy's upper and lower jaws are full of shrapnel and bullet fragments. Apparently, the gunshot wound broke his jaw, and due to the fact that he did not receive medical attention, it healed off kilter. Due to the irregular jaw alignment, several teeth had been weakened and were rotting. Two teeth broke off during the x-ray procedure. Several others that were rotten needed to be removed. The remaining teeth were cleaned. Vets who performed the surgery were shocked that Persy did not suffer from blood poisoning due to the rotting teeth. If left untreated, he would have died.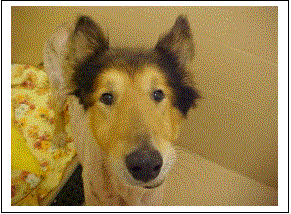 Within a few days of surgery, Persy was eating soft food and feeling much better. Several vets are in agreement that re-breaking Persy's jaw would only put him in more pain for a very cosmetic purpose. He has a slightly comic sneer from the alignment of his jaw, but is able to eat normally, although a bit sloppy.
Amazingly, Persy has tested negative for Lyme Disease and is heartworm negative. He did have giardia, a microscopic parasite that invades the intestines which is contracted from drinking contaminated water.
Julie Derusha and the staff at the shelter were very taken by this poor Collie that had endured so much. Derusha said, "There are very few animals who come into our shelter as bad off as Persy, yet through everything that needed to be done to help him he was such a good boy. He must have been in agony and had suffered so much, but was remarkably gentle. I named him Perseverance because he really did persevere through so much with such a sweet attitude. He is a very special boy."
Special indeed. All of his veterinary bills were paid by a good Samaritan in Michigan with a special love for Collies and Shelties. This angel likes to remain anonymous, but her generosity saved a life very much worth rescuing.
Because the Menominee Animal Shelter is not a long-term care facility for animals, they needed to find a place for Persy to recuperate from his injuries and months of adversity. They contacted Minnesota Wisconsin Collie Rescue, which has volunteers throughout Minnesota and Wisconsin who foster homeless purebred Collies and help them find new homes. Derusha says, "A foster home is really what Persy needs at this time. MWCR can provide loving care and he will be treated like a member of the family rather than staying in a kennel."
Minnesota Wisconsin Collie Rescue President Lorrie Oreck says, "All of our volunteers were moved by Persy's story. The pictures of him that were sent from the Menominee Animal Shelter were heartbreaking. It's awful to hear what this Collie has endured! We are happy that we can help in this way. After Persy has returned to good health, he will be adopted into a permanent home that will best match his needs and personality."
Persy is being fostered by a Minnesota Wisconsin Collie Rescue volunteer in Minneapolis, Minnesota. He has been regaining his health and his coat is starting to grow back. He now weighs almost 60 lbs. Persy enjoys visiting the local dog parks with his Collie foster sisters.
More pictures and recent updates about Persy and other Collies who are available for adoption through MWCR can be found on the Minnesota Wisconsin Collie Rescue web site: www.mwcr.org
---